A PBI-USA National Gathering.
Peace Brigades International (PBI) is an international non-profit organization, influenced by non-violent philosophies, including those of Gandhi and Martin Luther King, Jr. The founders of PBI shared a profound conviction that ordinary people can take action to stop war and human rights abuses and violations, even when their governments cannot or will not.
We envision a world in which people address conflicts nonviolently, where human rights are universally upheld, and social justice and intercultural respect have become a reality. We believe that lasting solutions to conflict cannot be imposed from the outside, but must be based on the capacity and desires of local people. We have been conducting nonviolent activism and defending human rights in conflict zones throughout the world since 1981.
What Is Protective Accompaniment?
PBI is best known for pioneering a strategy of nonviolent intervention in conflict zones called protective accompaniment, in which teams of highly-qualified field volunteers, backed by an international support network, physically accompany human rights defenders and communities who receive threats of political violence. Our independent, non-partisan stance helps PBI earn the trust of local grassroots activists, helping them to endure in the face of severe repression.
Through protective accompaniment, international presence and empowerment that support local initiatives, PBI makes space for peace and contributes to developing a culture of peace and justice. We only act on the request of local non-violent organizations working for human rights and development of civil society.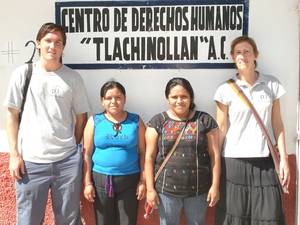 Protective accompaniment has helped to protect the lives of hundreds of threatened activists, many of whom have faced death threats and all of whom have faced severe harassment from military, paramilitary or other violent groups. Groups we accompany include indigenous communities, environmental organizations, lawyers, women's organizations, trade unions and relatives of the disappeared.
Protective accompaniment has three effects. The presence of international volunteers protects threatened activists by raising the stakes for potential attackers. It provides moral support and international solidarity by safeguarding threatened organizations, giving them the confidence to carry out their work. In addition, it strengthens the international movement for peace and human rights by giving accompaniment volunteers a powerful first-hand experience. This often becomes a source of inspiration to themselves and others when they return to their home countries.
History of Peace Brigades International
PBI's work began its first field project in Guatemala in 1981. Past project countries include El Salvador, Haiti, East Timor, the Balkans, Sri Lanka and Native American communities in North America.
PBI currently operates field projects in Colombia, Guatemala, Mexico, Honduras and Kenya.
Peace Brigades International - USA
Our Field Projects are backed by an international structure comprised of 16 country groups, including Canada, Australia, many European Countries and PBI-USA.
The work of PBI-USA focuses on supporting the field projects through volunteer recruitment, fundraising, public education and political support networks. PBI-USA also promotes education and training on peace and nonviolent strategies, as well as conducts outreach activities, such as speaking tours, in order to build awareness for the field of human rights, peace and conflict resolution in the U.S.